Kiyoko Matsuoka, 4th-generation shibori master 
Shibori, meaning "to wring, squeeze or press" is the process of shaping cloth before dyeing to create various designs on the textile. Rather than using the cloth as a two dimensional surface, the Shibori textile has a three dimensional element, given that each technique requires years of experience to master.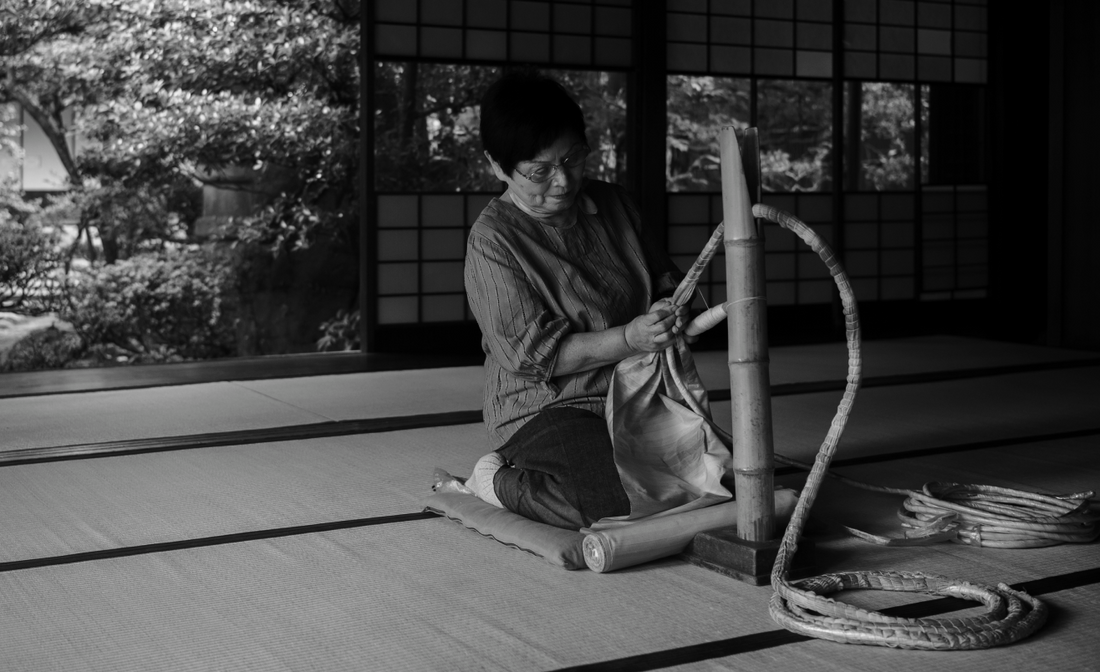 ---
TECHNIQUESHIBORI
---
GENERATION4TH
---
LOCATIONARIMATSU
---
PUBLISHED
---
AUTHORPOJ Support
---
Shibori, meaning "to wring, squeeze or press" is the process of shaping cloth before dyeing to create various designs on the textile. Rather than using the cloth as a two dimensional surface, the Shibori textile has a three dimensional element, given that each technique requires years of experience to master. Cloth is shaped by intricately hand folding, crumpling, stitching, plaiting, and twisting before being dipped in dye. The exploration of shape-resist designs has made Japanese Shibori one of the most recognized as the techniques continue to create the foundations for many other resist processes practiced around the world. 
The true beauty of Shibori is in the imperfections, aligning with the long held idea of Wabi Sabi that flows as an undercurrent through the Japanese concept of beauty. Although the fabric is carefully tied and dyed, once it is dipped into the pigment there is something in the process that the artisans do not have full control over as there are reactions that cannot be anticipated. Fusing a one of a kind element with modern living, Shibori textiles remain integral to the backbone of traditional textile craftsmanship. 
LOCATION
Walking along the main road of a small town called Arimatsu, you'll see old merchant houses and workshops that emanate a historic feel. Indigo dyed Noren fabric hangs at each entrance, swaying in the gentle breeze. This town is home to a small handful of artisans who have passed down the Indigo Shibori techniques for over 400 years. Located 30 minutes from downtown Nagoya City, Arimatsu is known to be the birthplace of traditional Japanese Shibori known today. 

The main road that runs through this town has become famous through a Japanese Ukiyo-e (woodblock print) series, as one of the 53 Stations of the Tokaido Route, a major passing point connecting Tokyo and Kyoto. Dotted with locally owned shops, quaint cafes and a Shibori Dyeing Museum with live demonstrations on Shibori techniques, this town is the heart of Textile Dyeing in Japan. The Shibori Festival held every June opens the town to masterclasses and studios, as visitors can enjoy the parades and glowing paper lanterns that light the streets in the evenings (has been canceled under COVID precautions). 

HISTORY OF CRAFT 
The earliest examples of the Japanese Shibori technique date back to the 8th century in Nara. Arimatsu Shibori originated in the early Edo period of Japan from 1603 when people had come into Nagoya to build Nagoya Castle in 1610-1614. Shibori Kimono was worn by those from Higo (currently Oita Prefecture). After seeing these kimonos, Shokuro Takeda from Arimatsu used a type of cotton made in Aichi Prefecture called Mikawa Momen instead of cheaper hemp fabrics, which was the very beginning of Arimatsu Shibori. 
During the Edo period, Arimatsu was a village full of teahouses that lined the Tokaido Route, the main route connecting Japan's two largest cities, Kyoto and Edo (current day Tokyo). Serving as stopping places for people traveling and transporting goods, Chaya (tea) business owners decided to sell Shibori handkerchiefs as small gifts for the trip. Gaining popularity among people who passed through, an industry was born, making Arimatsu the Shibori town. This prime location from early on allowed for the Shibori legacy to be much longer and more prominent here than anywhere else in Japan. 
KIYOKO MATSUOKA'S INTERVIEW
She is a freelance shibori artisan for Kahei Takeda, the descendent of Shokuro Takeda. 
CAN YOU TELL US A BIT ABOUT HOW YOU WENT INTO THE WORK OF SHIBORI TEXTILES?
So in short, I started working with Shibori Textiles in 1970, and have been involved in the craft for the past 50 years. I married into my husband's family and thus into his main business, which happened to be Shibori textiles, which is how I was introduced to it. His family specialized in this technique of Shibori called "Tatsumaki Shibori", and that is the reason why I've been a Shibori craftsman for 50 years. 
TO CONTINUE SOMETHING FOR 50 YEARS IS QUITE REMARKABLE, TO COME THIS FAR HONING ON SHIBORI, WHAT WAS THAT LIKE FOR YOU?
It's been quite long but I've always been devoted to my work. I married into a family that was very much independent and self employed, and there was always an intention or desire to keep passing on the technique and tradition. I was very dedicated to Shibori. 
WHERE DO YOU THINK THAT DEDICATION CAME FROM? WHERE WAS IT ROOTED IN? 
Well you see, my husband told me that his mother and grandmother had earned many honors, such as being certified as an Intangible Cultural Asset by Aichi Prefecture, as well as other cultural awards. Hearing stories about their work, I wanted to follow their footsteps, even though it was a heavy weight to carry. With such an honor being placed upon us, and one that is not given to many, I wanted to continue Shibori just as my mother in laws did. 
CAN YOU TELL US A BIT MORE ABOUT THE SHIBORI YOUR FAMILY SPECIALIZES IN?
My family has passed on a technique called "Tatsumaki Shibori" ( translated to Tornado Shibori) for generations. This name comes from the way the we twist the textile looks like a climbing dragon, making a tornado as it comes up. A climbing dragon is said to be a good omen, or a symbol that brings good luck to people. We took the idea of the dragon from that process and named the technique "Tatsumaki Shibori" to make it easier to understand. 
We are the fourth generation to inherit this Shibori technique. You might know that there are many different techniques of Shibori, all requiring different artisans to do it, used for traditional Kimonos and ceremony wear. All of these techniques have been said for centuries to bring good luck, which is why Shibori is often worn at coming of age ceremonies or weddings to bring prosperity. 
Depending on the fabric, the difficulty of doing Shibori also changes. For instance, the fabrics used by Takeda Kahei are very well made, as there is considerable ingenuity involved in making fabrics that are very light but also warm to wear. We receive high quality textiles like this, it's very difficult for us as Shibori artisans, as the fabric is so dense. The higher the quality of material, the harder it is for handiwork. However, after we're finished, the result is beautiful. Many people tell us that the finished pieces are light and easy to wear. 
WHAT IS THE HARDEST PART OF YOUR SHIBORI CRAFT IN YOUR OPINION?
I'm sure there are many ways to do Shibori depending on the artisan, but in the case of my technique, we don't have outlines or rough sketches before we start. In the case of other Shibori, there are preliminary sketches done on the fabric to guide the artisan, shown by markings that fade when the fabric goes into the dye. In my work, we don't lean on those sketches so we use the feeling in our fingertips to guide us. 
The process is called "striating", involving adding several lines to the fabric that look like striations. The result of this technique is called "Willow Shibori" or Shidare Shibori in Japanese. There is no rough sketch for this, and the technique involves us removing the stripes to create the image of weeping willow trees. This kind of Shibori is very sensory and thus sensitive work, so it requires us to be very careful. 
There is also a technique we use when we are asked to make the willow weep in a straight, so that the stripes run straight from beginning to the end. If the craftsman loses his sense of touch, the line may escape here or there during the process. This kind of nerve-wracking Shibori results in a very simple pattern, but there are times when it is difficult because of how simple it is. 
Even though I've been working with Shibori for 50 years now, I feel as if each day still has lessons to be learned. We're still training to become better artisans and there is no end to the learning experience. I keep that in mind when I continue Shibori each day. 
HAVING WORKED WITH YOUNGER SHIBORI ARTISANS IN ARIMATSU, DO YOU HAVE ANY THOUGHTS ON HOW THE CRAFT WILL CHANGE WITH THE NEW GENERATION?
Well, what can I say? In my eyes, Shibori is a tradition and as a craftswoman, I've narrowed my focus to preserving the tradition by passing Tatsumaki down from generation to generation. 
My husband and I are now the fourth generation and our children have gone different ways to different careers as company workers, so we couldn't connect it to them. They don't want to take on Shibori on as we did. Having said that, the President of Takeda union in Arimatsu and I are working together to teach, or rather set up classes for students to teach them various techniques. I've been teaching within my capacity to students so that they can follow in my footsteps, and the chairman of Takeda Kahei Shibori Manufacturer is also very supportive of that. 
The young people are really enthusiastic about us teaching, and I can see that they really want to learn. They are not half-hearted and they are trying really hard. 
Shibori is not something you can learn right away, but you can watch us do the technique and imitate us. That's how you learn. 
When I first came into the family as a daughter in law, I didn't learn much from my mother in law. Coming to think of it now, it's not something that can be taught by being taught though speaking or writing. I learned by watching and imitating the wonderful hands of professionals. That's how I learned to become a craftsman.
That's why I had a lot of trouble when I got married. I went into an industry that I had never been involved in,  so it was a very difficult time for me to learn all that was needed. That is why I have been learning with such a heavy heart, and that is why I tell my students to imitate me by watching how I do things and how I move my hands. There are some things that can't be understood no matter how hard I explain. So that's how I teach my classes.
WHAT IS ONE THING YOU WOULD LIKE TO ADVISE YOUNGER CRAFTSMEN? 
Based on my experience, I would say that they should look for ways to not get bored and imitate work for years. I want you to imitate everything. Don't give up halfway. It's a job that requires a lot of dedication, so I'd like to ask you to do your job with your heart and soul intact.
You'll be moved when you look at the finished work that you've worked so hard to produce. That's how I feel.
---
TECHNIQUESHIBORI
---
GENERATION4TH
---
LOCATIONARIMATSU
---
PUBLISHED
---
AUTHORPOJ Support
---
goes well with
Regular price
Dhs. 434.00
Regular price
Sale price
Dhs. 434.00
Unit price
per
Regular price
Dhs. 744.00
Regular price
Sale price
Dhs. 744.00
Unit price
per