KIntsugi apprentice program
A once-in-a-lifetime opportunity to study kintsugi and live in Kyoto - while experiencing the rich seasons the city has to offer
ABOUT THE PROGRAM
POJ Studio's two-month intensive program. Study to practice and share the craft of kintsugi-repair with the world, through our 100-hour apprenticeship in Kyoto. 
As a graduate, you will become an educator, leader, ambassador, and mentor, fostering kintsugi practice in your community. The Kintsugi Apprentice Program ensures that you are armed with the logic, philosophy, traditional tools, natural materials, and historical and cultural context that are at the heart of the authentic Japanese tableware restoration technique.
WHEN
The Kintsugi Apprentice Program is a 100-hour apprenticeship that takes place over two months in Kyoto.
Upcoming Terms*:
Autumn 2023 (Oct 1 - Nov 28)
Winter 2024 (Jan 7 - March 5)
Spring 2024 (March 24 - May 21)
*Dates are subject to change.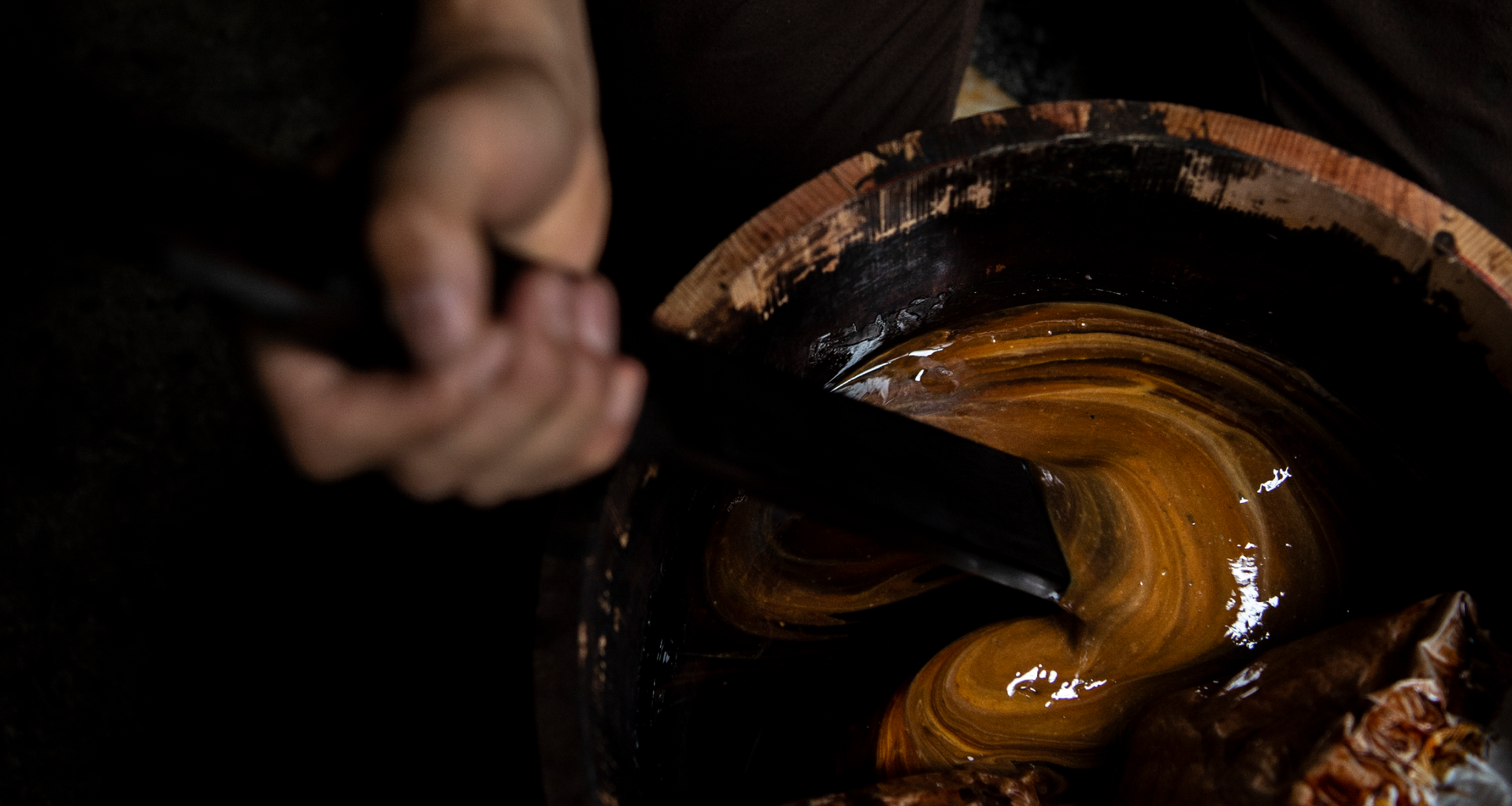 program details
Apply via the link below if the program interests you!
FOR WHO?
The program is suited for those who are interested in:
sustainable and regenerative traditional Japanese crafts,
heritage repair and restoration practices,
studying Japanese food and drink culture, and relevant ettiquette,
urushi lacquerware technique and history,
urushi trees and how their presence reflects the Japanese socio-political and environmental landscape,
Japanese philosophy and aesthetic sensibilities behind kintsugi,
learning about Japanese tableware: ceramics, porcelaain, glassware, wood, and lacquerware,
incorporating kintsugi into their practice,
teaching kintsugi in their home country.
what does it include?
100 hours of kintsugi education with thorough practical kintsugi-repair training, specifically around the repair of ceramic and porcelain pieces
Field trips to visit key people and places behind kintsugi-repair to properly study:
tableware
tool making
natural materials
environmental impact
food culture
Two months accommodations. Fully furnished private studio apartments inclusive of workspace, kitchenette, toilet, bath/shower, washing machine. Utilities and internet are also included. Conveniently located approximately 10 mins by bicycle to POJ Studio.
What is the application process?
The application process will proceed as the following:
Complete the application form.
We will contact you to schedule a video interview.
We will assess your full application and interview internally.
Welcome you to Kyoto to begin your apprenticeship!
What is the enrollment fee?
AUTUMN 2023
1 SPOT JUST OPENED DUE TO A CANCELLATION - APPLY NOW IF YOU'D LIKE TO JOIN US IN AUGUST 2023!
9,775 USD early application by 2023 June 15
11,500 USD standard application by 2023 July 15
WINTER 2024
9,775 USD early application by 2023 September 15
11,500 USD standard application by 2023 October 15
SRING 2024
9,775 USD early application by 2023 December 15
11,500 USD standard application by 2024 January 15
APPLY TODAY
To become a Kintsugi Apprentice, click below to complete the form. We will review your application and get back to you as we possible.
ACCOMMODATION FOR APPRENTICES
Stay in our fully furnished private studio, inclusive of workspace, kitchenette, toilet, bath/shower, washing machine, utilities and internet.
FAQ
Payment is due in full within 14 days of acceptance into the Kintsugi Apprentice Program.
We request enrollment fees to be paid via direct bank transfer.
Once payment is made, cancellations are possible until one month prior to the start of the term, however a cancellation fee of 4000 USD will be incurred. Thereafter, the enrollment fee is fully non-refundable and non-transferable. 
Should there be any global pandemic-related border restrictions to Japan, or lock-downs, we will be in touch to suggest date changes, or 100% of the enrollment fee will be refunded less transfer fees. 
You can also organize your own accommodation. However, we are unable to provide a discount on the enrollment fee.
All classes and experiences are conducted in English. 
We are happy to announce that we are now able to take one Apprentice per term at a subsidized enrollment fee, in exchange for skills that may be of value to POJ Studio for the two month duration.
The skills we seek are reflective of the business goals and projects that are of focus at that time. Sometimes this means skills in photography, other times it means graphic design or Japanese craft technique. More than anything, we are attracted to passionate creatives who are determined to incorporate kintsugi repair into their life moving forward, but are in current need of financial support.
If you are interested please fill this form.

We also have a very selective in-house trainee program for those who are interested in working toward making kintsugi a full-time profession. If you are interested, please contact experiences@pojstudio.com.
The apartments we provide are studio apartments for one person, but can be shared if your partner would like to stay at the same apartment for an additional USD 400 per month.
Once the application period has ended, the application process takes about one month.
In Winter we will announce the dates for the Summer 2024 term.
We do not offer this program for one month due to the nature of the repair and curing process. Details on this and more can be found here.
Free time is built in to the program schedule to advocate day trips and quick overnight trips to further explore Japan and Japanese culture.
Urushi, the sap of the urushi tree, is the base material of authentic kintsugi-repair using all natural ingredients. It is what makes this tableware restoration technique antipest, antiviral, antibacterial, and so durable. Not to mention, 100% food safe.
The urushi tree is the cousin of mango, cashew, and poison ivy. As a result, some people fear working with urushi. Like poison ivy, it does indeed contain a compound called urushiol that can cause minor skin irritation to a more severe allergic reaction, depending on the individual. 
Learn more about urushi here.
This is case by case but certainly can be discussed. Whether a single payment or installments, in most cases, full payment must by made at least one month before the term begins.