Takuya Tsutsumi, 4th-generation Urushi Refiner
Through his passions for surfing, skateboarding, and the outdoors, Takuya Tsutsumi, spearheads a movement to revitalize the urushi industry in Japan. Learn about the state of the industry and his thoughts on the connection between nature, crafts, and culture.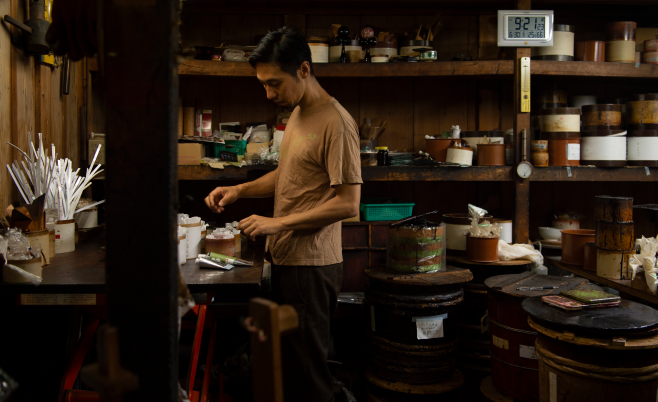 ---
TECHNIQUEURUSHI REFINING
---
GENERATION4TH
---
LOCATIONKYOTO
---
PUBLISHED
---
AUTHORErisa Takeda
---
Urushi is the sap that flows through the veins of its tree - but also through the veins of Japanese crafts. With its protective properties against water, mold, mildew, and other forms of weathering, it has remained within the Japanese culture since 10,000 years ago. 
Yet, like any other natural material, the work to refine urushi takes years of training as well as an in-depth understanding of its natural form. Only through intertwining the quality resources and generations of technique are we able to enjoy the urushi we have today. Protecting the knowledge and traditions ripples beyond the sphere of urushi craft, as it allows us to experience moments of gratitude. Gratitude for nature and for the hands that come between us and the things we own.  
HISTORY
Founded in 1909, Asakichi Tsutsumi and his wife started refining urushi with a simple mission: to provide craftspeople throughout the city with an urushi that could easily be coated. Starting from delivering urushi on their bicycles to individual workshops, their small business, committed to not wasting even one droplet of urushi, has now supported artisans for over a century and continues to play a vital part in the industry. 
Looking back through history, the permeation of urushi into Japanese artisanship dates back to the Jomon period (14,000 to 300 BCE). At that time, urushi was used to coat bowls, plates, and pots, weapons such as bows, and decorative products such as combs and bracelets. Much like today with kintsugi, it was also used to mend broken pottery. From more mundane uses to celebratory events, urushi has had a place in the Japanese lifestyle for thousands of years. 
As Japanese lacquerware was exported and introduced to Europe in the 15th to 17th centuries, missionaries played a significant role in widening the Japanese influence. The appeal and fascination with Japanese urushi eventually led the Europeans to invent a way to create the same look as urushi with resin and black-colored powder, which they started using to coat pianos. Although the use of urushi ware has evolved and adapted to different lifestyles throughout the centuries, what stays constant within the collective consciousness of craftspeople is the respect for nature and all that it provides.  
LOCATION 
The grid pattern streets of Kyoto are steeped with history and tradition, as family businesses, temples, and shrines that are hundreds of years old are all densely located in the same area. A couple of blocks down from where the lively Gion Festival takes place and across a 1000-year-old Bukkoji temple in a quiet and narrow street, lies the Tsutsumi Asakichi Urushi Shop. 
Before entering the workshop behind the offices of the company, we were led to first see the stages of how urushi is refined. The first thing we saw were stacks of urushi trees with lines of incisions shaped like an inverted triangle, made to tap the urushi. After the tree has matured in 15 years, the first incision is made in June, where it is kept short to signal to the tree that the tapping process has begun. By the end of the extraction period in October, only 200g (7oz) is tapped from each tree. 
We were then led to see barrels of raw urushi, which were neatly kept in a room-sized refrigerator kept at below 10 degrees Celsius. Raw urushi is glossy to the point where you can see your own reflection. The color of it also resembled the feel of the entire workshop made of wood and splattered with urushi - a deep brown tone, which lets you sense the warmth and history that it carries. 
CAN YOU TELL US A LITTLE BIT ABOUT YOUR BACKGROUND AND YOUR RELATIONSHIP TO THE CRAFT? 
I was born in 1978 in Kyoto into a family that refines urushi for a living. I went to a university in Hokkaido (the Northern island of Japan) and studied agriculture because I love being around nature. At my university, I did some research on livestock farming and seasons, rode horses, and worked in fields. Because of that, I went to New Zealand for a year for an exchange and worked on a WWOOF (World Wide Opportunities on Organic Farms) stock farm. I fed the calves, rode horses - just loafed around. I love New Zealand though. I saw that they were really close to nature - they paid respect to it, they made their own things, they mended their own things. That experience really shaped me. At that time, I was introduced to surfing and I'd already been snowboarding in Hokkaido. People in Hokkaido are also similar, so I guess I was drawn to similar places. 
When I came back to Hokkaido, I had no intention of carrying on my family business, so I got a job at a chicken shop based in Iwate, which had a business division in Sapporo (Hokkaido). I worked there for a while when I received a call from my father/CEO that the family business needed help. At that time, our Kourin urushi, which is a very fine type of urushi that our family invented, was getting traction so there weren't enough people to refine it in the workshop. That was around 16 years ago. I've been at this workshop ever since. 
WHAT IS THE RELATIONSHIP BETWEEN CRAFTS AND THE LAND, THE EARTH (CAN YOU PERHAPS SPEAK ABOUT THE EFFECTS OF CLIMATE CHANGE)?
I think a craft is something that was born in the woods. Originally, people used to live in the woods and create things - food, music, recreation, art, and things that are beautiful to look at. People found ways to enrich their lives from resources they found in the woods - and that to me is culture. The woods gave birth to crafts and to culture. That's the relationship between land and crafts. Without the woods, there would be no crafts or culture. 
I think climate change is due to the distance we've placed ourselves from nature. It used to be the norm to be in tune with the rhythm of nature and have the same schedule as nature. How were you supposed to fix your thatched roof by disregarding the crops and the seasons? And without realizing it, people had respect for it because it provided people with a roof, food, crafts, etc.
WHAT DID YOU LEARN FROM MONOZUKURI*? DO YOU HAVE ANY STORIES YOU WANT TO SHARE?
Whenever I'd go to the workshop, my grandad always made me something like a toy made out of bamboo or an airplane made of clay. Whenever they would break, he'd mend them with Kintsugi - just with urushi, not the gold. He'd never buy anything, but he'd make people happy by making something for them. He was the coolest and kindest grandad. 
That's where I developed an appreciation for making my own things. For example, I refine the urushi and coat it on my wooden surfboard, even though a professional coater would do a much better job. I refine it myself, coat it myself, ride on it myself, and repair it myself. 
This is why I host workshops for children. I invite the lumberjack friend to bring two types of wood. I let the kids choose the wood they want to use for their chopsticks, watch it be lasered into chopsticks, and coat the chopsticks themselves with urushi. 
*monozukuri is a combination of the word mono, the thing that is made, and zukuri, the act of making. Putting a focus on the action and the object instead of the craftsman behind it, the person is de-emphasized, representing many nameless craftspeople who have dedicated their lives to the craft.
ARE THERE ANY ISSUES OR CHALLENGES YOU'RE FACING?
We buy around 70% of the urushi produced in Japan. In previous years Japan produced around 1.4 tons, and we'd buy 1 ton of it. You can't call this an industry with this amount. 
When I visited the people who tap the urushi, they're all in their 70s or 80s. I felt an urgency when I realized that the people who tapped the urushi were passing away every year and there were only 20 of them left (in Iwate, which is one of the main producing sites of urushi trees). 
That's why Chinese urushi is still very necessary for us. We need theirs while we increase the amount of Japanese urushi and learn to become self-sufficient in the long run. That's why I'm working to plant trees in Keihoku (Northwest of Kyoto). 
IS THE PLANTING PROJECT YOU'RE TALKING ABOUT KOGEI NO MORI (WOODS OF CRAFT)?
Yes. There's been a lot of natural disasters so the mountain is in an unhealthy state. But I want to create a place where the roots and soil are strong and where people can gather. I want to plant various trees every year little by little. For the urushi tree, it takes around 15 years for it to mature - which means they won't make us any income until then. So we're trying to figure out how we can make this work. For now, we're planning to host workshops to make benches and work with wood. 
WHAT IS THE APPEAL OF CRAFTSMANSHIP?
The connection. There's nature at the beginning, the connection between nature and people, and the connection between people. Things aren't able to function with just one person. 
Kyoto is a small ecosystem. There are the craftspeople, people who sell, and people who buy. This industry is made up of individual work that's all dependent on each other. I won't have any urushi to refine without the person who plants and extracts the urushi. Even if I refine the urushi and prepare it for coating, if there's no one to coat the final product, my work is pointless. And all this starts with nature, the urushi tree. So, it's not only crucial to plant these trees but also to make sure that the urushi lacquerware has a way out - for people to enjoy it - in order to create a system of circulation.
I think that's the appeal to craftsmanship. Manufactured goods and crafts are both made by thinking about the end consumer, but what differentiates the two is whether it goes back to earth or not. Crafts do. We face nature every day, that's the virtue. 
---
TECHNIQUEURUSHI REFINING
---
GENERATION4TH
---
LOCATIONKYOTO
---
PUBLISHED
---
AUTHORErisa Takeda
---
Regular price
From Dhs. 270.00
Regular price
Sale price
From Dhs. 270.00
Unit price
per