Tomoya Hyodo, maker of Kiri Wooden Trays
Starting his career to become a racing car mechanic, Tomoya Hyodo, later substituted making metal parts with wooden parts. His creation process is rooted in his love for all things mechanical. Learn about his journey on becoming a sashimono joinery artisan.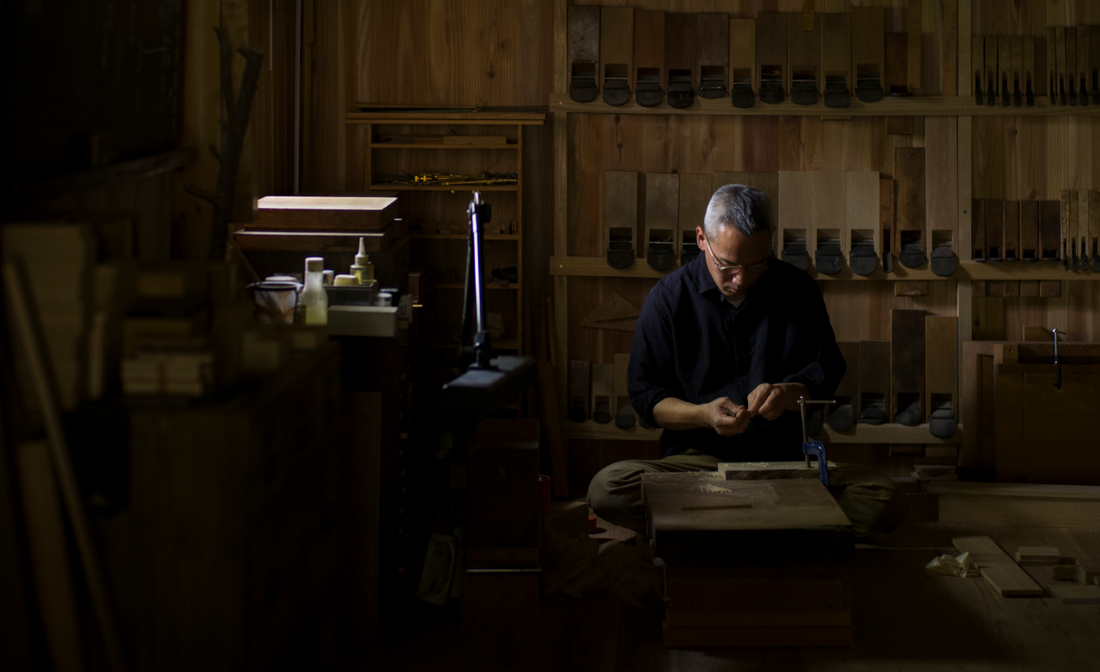 ---
TECHNIQUESASHIMONO
---
GENERATION1ST
---
LOCATIONKYOTO
---
PUBLISHED
---
AUTHORErisa Takeda
---
Born and raised in Japan's cultural epicenter of Kyoto, Tomoya Hyodo's woodwork brings out a beautiful simplicity that illuminates his years of experience in the world of craftsmanship. Crossing over various art forms from Indigo dyeing, tea ceremony to woodcraft, his Paulownia Kiri boxes, known as Kiribako in Japanese play a role in preserving the finest of national treasures and cultural assets. Through understanding the natural tendencies of wood, the meanings behind various resources and the philosophy rooted in tea ceremony, Hyodo's work encapsulates the minute, yet subtle aesthetic that is representative of Japanese traditional craft. 
HISTORY OF CRAFT
Throughout history, the Kiri box was not just an average storage box, it was a medium in which people trusted to store their personal treasures that they wanted to preserve for generations. The Paulownia wood has always been a versatile resource, having characteristics such as humidity protection, a high level of airtightness, a natural insect repellent, and being one of the lightest and least flammable among any domestic wood. This explains why Kiri tansu, or Kiri drawers were used to keep very expensive and celebratory Kimonos to ward away any insects, and keep humidity out of the fabric. 

Kiri boxes also continue to play a role in the act of gift giving, as choosing a high quality material to give a gift boosts the overall value of the gift itself. In addition, Paulownia remains a deeply symbolic natural material, as its branches are depicted in the seal of the office of the Prime Minister serving as an emblem of the national government. 

From holding household valuables to national treasures such as scrolls and porcelain pieces, the Kiri Box has preserved value in both tangible and intangible ways. 
LOCATION

Hyodo's workshop is located in Keihoku of Kyoto, Japan, nestled within other workshops and studios that have held their ground for generations. From textiles, pottery, tea caddies, scrolls and everything in between, the winding roads home to shrines, temples, old Machiya houses and tea houses is home to artisans and creators alike. In addition, the proximity to healthy forestry provides for high quality Kiri wood to be collected for creating his Kiri boxes. 

Quiet, hidden yet vibrantly diverse, the work of craftsmen here continue to be an anchor for retainment of quality Japanese tradition. 
COULD YOU TELL ME ABOUT YOUR RELATIONSHIP WITH CRAFT AND HOW YOU GOT STARTED WITH YOUR WORK?
I'm working as a woodworker now, but my career actually started with cars. I always liked racing cars and I initially went to school to become a racing car mechanic. The first job I got was involved with making cars, so I was more of a steel worker at first. My work revolved around cutting out steel sheets to make parts. That was in Nagoya, so when I came back to my hometown in Kyoto, I wanted to find a job that was typical of one in Kyoto, so I entered the textile dyeing industry. 
The dyeing I did was called "In-zome" which was used to dye the crests of each family for weddings. I also used to dye large banners for shrines and temples with their individual crests on them. It's really a big curtain, spanning for meters or even tens of meters long that drape across the main hall for a temple or shrine. I worked on those for about 4 years. 
BEING FROM KYOTO, HAVE YOU BEEN INFLUENCED BY THE ENVIRONMENT OF KYOTO? AND HOW DID IT AFFECT YOU? 

I was born and raised in Kyoto, and now I live in Kyoto.

My mother was actually a kimono sewer. My mother's father, my grandfather, was a craftsman who sharpened axes, a job that has almost disappeared now. So I was unknowingly exposed to a variety of artisan/craft cultures from a young age.
WAS THERE A TURNING POINT FOR YOU TO WANT TO SWITCH CRAFTS? 
Although the work I did in dyeing was really deep and fulfilling, it was really a one shot job, meaning that once you start a piece, you have to dye really quickly and go through the process all at once. At this point in my career, I wanted to spend more time creating and really hone into a single piece of work for a longer period of time. I guess you always want what you don't have. But it was around that time that I wanted to do something else and Scandinavian furniture was just starting to become popular in Japan. It was being introduced in many magazines and I became interested in furniture. I decided to go back to school for a year to learn more about that field of craft. 

After learning for a year, I happened to find a job that specialized in making tea ceremony utensils. It was a genre called "tea ceremony sashimono" and I thought it would be a good idea to do this in Kyoto, as it is the epicenter of Japanese tea culture. 
ARE YOU STILL MAINLY MAKING TEA UTENSILS?
I rarely make tea utensils anymore, as the demand for tea utensils is decreasing. What I mainly make now are paulownia boxes to put hanging scrolls into. 
The reason why I went for creating things around the tea ceremony was rooted in my desire to go abroad someday. I realized that it was very important for me to solidify my Japanese identity before going, from the perspective of an individual and a craftsman. 

By learning about the ideology and philosophies behind the tea ceremony, I thought I would be able to create unique work in the future, and connect that to furniture and other things I had interest in. 
WHAT IS YOUR PHILOSOPHY IN MAKING THINGS, AND HOW HAS IT CHANGED?
I think it's important to make the best use of the materials themselves, and in older times, the functionality and design of the products were many levels higher than what people might think. Nowadays, people are more interested in efficiency and how low the price can be, and if you deviate from that, it's not good. However, the main business of paulownia boxes nowadays is the work of storing cultural properties.
We are required to use a higher level of materials, and we are also required to make our products in a very precise manner. Because of this, I can receive a reasonable price, and I can spend more time on my work compared to normal work. In that sense, I can spend more time and money to make something I'm proud of. That's why I work with a greater sense of responsibility. I think this is a job that will remain with me for a long time to come, so I am grateful that I was able to find a job that allows me to make quality products, not just based on efficiency or price.
WHAT MADE YOU DECIDE TO START WORKING WITH PAULOWNIA WOOD BOXES?
At first it was a very simple motive. 

I love mechanical things like cars and watches. 

If you buy a mechanical watch and open it up, you'll find a lot of little gears lined up. It's metal, but when I realized that things made of wood can also be finely crafted, it all connected for me. 

Lately, I feel like everything I've done up until now has been connected. It's like the dots are becoming lines, and it's becoming three-dimensional.
WHAT DO YOU PAY ATTENTION TO THE MOST IN YOUR WORK?
I always pay attention to how I can make the best use of the materials. Paulownia wood is very soft, and I think people in other countries would probably use harder wood to make boxes. So I was wondering why Japanese people choose to use such soft wood.
One of the reasons is that paulownia wood is white. The use of white is a favorite of the Japanese, and I think it comes from Shintoism, because white represents purity. The other thing is that on the paulownia box, there is an inscription in black ink that tells the story of the box. For example, we would write a "Yushou-gaki" or proof that this was made by a proper artist. In this sense, it is better to use a white material such as paulownia wood so that it looks beautiful when written in ink.

The box itself is not assembled tightly with glue, but is put together with wooden tools and rice that's crushed to become the glue for the paulownia box. Then I use wooden nails to fasten the box, and close it with those two. That's enough to hold it in place for everyday use. However, when a certain amount of shock is involved, the glue pops and it cracks.

The shock is absorbed by the box, so it protects everything inside. I thought this reversal of thinking was very Japanese. I think that over the hundreds of years that paulownia boxes have been around, craftsmen and users have developed a lot of wisdom that has allowed them to survive. Today's cheap boxes don't use wooden nails, and use artificial adhesives. So, although they look like paulownia boxes at first glance, most of them don't serve the purpose of a real paulownia box.
Japan has a very high level of technology for making the highest quality products at a low price. Even if you look at houses, they look like they are made of wood, but they are not. Even the walls are no longer made of clay, but of plywood with cloth.

In this sense, we are seeing less and less use of real material. There is nothing we can do about it, but we don't have the opportunity to experience the real thing.
WHAT IS THE BIGGEST CHALLENGE YOU FEEL RIGHT NOW?
It's hard for me to make and sell my own products and there's definitely a mismatch between supply and demand. Although the craftsmen try their best to make products that they think will be popular, in the end, the products are unattractive to buyers despite the technology. That's why even though they use great technology, they can only sell their products at a very low price.

Another main issue is that today's 20-somethings go to university to study, but when they eventually try to find a job, they can't find one. So what they have to do is suddenly become an independent artist and make a living on their own.
Since the route to become an independent artist immediately post grad was rare in the past, this new wave of young craftspeople who go solo may be a bit premature. 

A craftsman needs to make a lot of things to become comfortable with their technique and sensibility as an artisan. They can't incorporate the traditional elements and techniques into their own senses immediately. Only through years of experience and hard work do ordinary people become craftsmen. 
ON CULTIVATING YOUR OWN SENSE OF BEAUTY AND CRAFT? 

It's not that I'm conscious of it, but it just happens naturally. That's what learning about craft or tea is all about. The tea utensils themselves are tangible, but I think the intangible things are more important. In order to become more sensitive to the abstract, you have to hone into the vessels that allow you to truly dive into the beauty beyond the visible realm. 

For me, traditional techniques are what today's athletes call "core stability'. To train your core is to train for everything that a sport requires you to do. Having that strong core will allow a craftsman to respond to whatever changes the times may bring.
---
TECHNIQUESASHIMONO
---
GENERATION1ST
---
LOCATIONKYOTO
---
PUBLISHED
---
AUTHORErisa Takeda
---
Regular price
¥0
Sale price
¥27,000
Unit price
per
Regular price
Sale price
¥37,000
Unit price
per
Regular price
¥0
Sale price
¥35,000
Unit price
per
goes well with
Regular price
Sale price
¥24,000
Unit price
per