Naoya Arakawa, Maker of Japanese Glass Vessels
The creation process of Naoya Arakawa's hand-blown glass pieces or "vessels of light" is innovative and unconventional, pulling knowledge and resources from the arts to engineering and the sciences.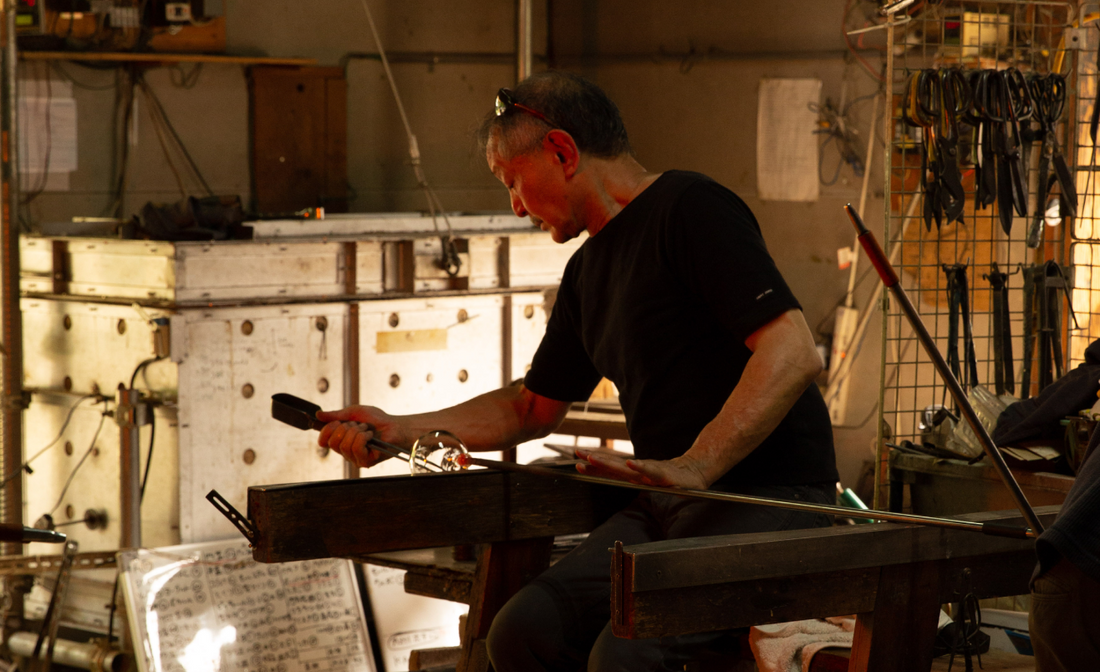 ---
TECHNIQUEGLASSBLOWING
---
GENERATION1ST
---
LOCATIONKYOTANGO
---
PUBLISHED
---
AUTHORErisa Takeda
---
Through long narrow roads encircled by lush green mountains and rice fields irrigated by nearby streams and rivers lies Naoya Arakawa's family home and glass-blowing workshop. 

The calm is suddenly interrupted by the sounds of shattering glass and clanging metal. Outside the workshop, there are stacks upon stacks of green and blue crates that almost camouflage into the sky and mountain. Inside is lively, organized but chaotic, and heavily stimulating. Definitely a must-have-closed-toe-shoes kind of place. There are exposed pipes, cords, and wires - of which some are connected to blow dryers, shattered glass pieces on the ground, and hot iron all around. But everything functions seamlessly. Naoya Arakawa and two apprentices, one trained and another a trainee, rhythmically pass around the blowpipe to one another in what feels like a 40-degree (100°F+) environment - each playing a part in making one unique glass piece. 
To us amateurs, coming out of what feels like a battlefield only enhanced the serene natural landscape. The peaceful walk to Mr. Arakawa's family home is enchanting, Opening the door, we immediately enter Mr. Arakawa's world. His moving glass sculptures and other larger glass pieces are displayed on either side of the entryway. The home is furnished with woodwork made by artist friends. One memorable corner of the house is like a sunroom. Large windows that face the mountain allow natural light to cascade throughout the space. This area is his collection room with glasses of his own and of others, and old metal locomotive parts that he repurposes for his moving glass sculptures. 
With an inclination toward handcrafting, seeking new frontiers, and inventing new ideas and systems, Mr. Arakawa entered university to study agricultural engineering. But very quickly he found some projects contradictory and not as beneficial to society as he had envisioned. 

When trying to figure out what he should do instead, Mr. Arakawa noticed the white space in glassware. He felt that the experience of eating from Japanese wares while drinking from a European glass was like walking on tatami with heels. And thus found it difficult to find glassware that pairs with Japanese plates and bowls.

Among other reasons for pursuing a career in glass-making - it allows him to be experimental and pursue the unprecedented. The multi-talented artisan is simultaneously creative and highly systematic and process-driven. He hopes to continue his legacy by sharing foundational processes that can be replicated so that his apprentices can achieve similar success. 
Watch Naoya Arakawa's interview below to learn more about where he talks about where he sources his inspiration and how he hopes to pass down his knowledge.
---
TECHNIQUEGLASSBLOWING
---
GENERATION1ST
---
LOCATIONKYOTANGO
---
PUBLISHED
---
AUTHORErisa Takeda
---
Regular price
Sale price
¥8,000
Unit price
per
Regular price
From ¥8,720
Regular price
Sale price
From ¥8,720
Unit price
per
goes well with
Regular price
Sale price
¥24,000
Unit price
per