Masao Kiyoe, Maker of Indigo Wall Pieces
The construction worker turned first-generation craftsman started his career from scratch, from learning how to harvest indigo to bringing his dynamic designs to life. Learn about his journey of becoming a craftsman in this interview.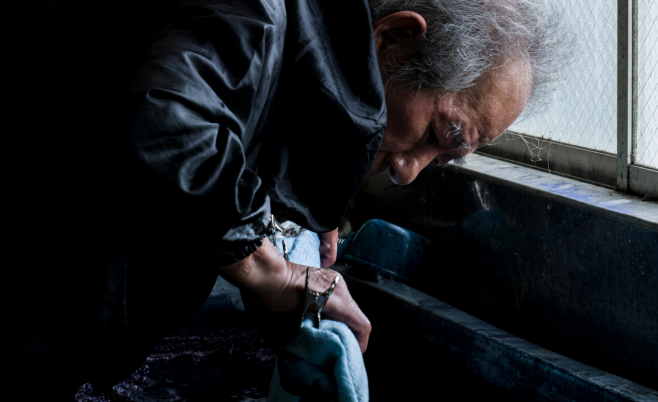 ---
TECHNIQUESHIBORI DYE
---
GENERATION1ST
---
LOCATIONKYOTO
---
PUBLISHED
---
AUTHORErisa Takeda
---
Color is unique to each region and intertwined tightly with its culture. In Japan, the colors derive directly from its abundant nature that constantly evolves through its four seasons and climate.
This is the foundation of kusaki-zome, fabric dyeing with colors drawn from plants, flowers, fruits, vegetables, and insects. 

This craft is what Masao Kiyoe fortuitously found himself adopting and continuing by paving his own way in the world of craftsmanship. He is a first-generation craftsman of shibori-zome Japanese tie-dye, which includes kusaki-zome. Although shibori (tying) and some (dyeing) are two isolated processes traditionally done by separate craftspeople, he has taught himself both techniques, which require in-depth knowledge of not only the techniques but also of nature. 
HISTORY 
The extraction of color from plants has been part of human history all over the world, including in Japan. However, between the 6th and 8th centuries, Japan made leaps in its dyeing technique by learning from its neighbors in China and Korea. Since then, kusaki-zome has become interwoven and adapted into Japanese culture. 

Since the 8th century, kusaki-zome has been used to dye Kimonos, including the juni-hitoe, a 12-layered kimono worn by noble women. While this technique has been passed down for generations, the term was only formally adopted in 1930 to differentiate itself from synthetic dyes. 
LOCATION
On a steep, narrow path winding up to Kiyomizu Temple, you'll find a street lined with pottery shops, traditional Nishijin textiles, and quaint shops selling an assortment of Japanese sweets. Among these shops is a small first-generation shiborizome shop belonging to Masao Kiyoe. 

Upon entering, the shop is filled with various kinds of textiles with colors derived from natural dyes - blues, pinks, reds, yellows, browns, and other colors of Japan. 
CAN YOU TELL US A LITTLE BIT ABOUT YOUR BACKGROUND AND YOUR RELATIONSHIP TO THE CRAFT?
I've been doing this line of work for 47 years but I started my career working in construction in the steel industry. Due to an accident at the construction site, I was off work for some time (for safety reasons). My wife persuaded me to look for other jobs that weren't so labor-intensive and dangerous. But this was all I knew. 

I eventually met someone who dyed for a living and hung out with him at the workshop 5 or 6 times. After watching him, I thought I could do it. I bought all the equipment to start - a boiler, dehydration machine etc. When I realized that the colors of the dye were all powder, I brought in someone to bring me all the colors I wanted to use. I was laughed at. He told me that I was supposed to mix colors together and make them myself. I thought the colors I wanted already existed. I realized how awfully difficult this all was. So I started making the colors myself by mixing but it's not that easy. 

When it came to looking for a job, that wasn't easy either. I looked up the numbers of all the Kimono stores in the telephone book because people were mostly dyeing Kimonos at that time. But the Kimono industry was a very small-knit community. They wanted to know where I trained and where I worked - but I obviously didn't have a resume, so I was rejected left and right.

I eventually had a chance to meet the CEO of a well-known Kimono company. He gave me homework and asked me to copy the color of a textile sample. But I couldn't copy the color no matter how many times I tried. I made many attempts and eventually brought it back to him with what I had. Luckily, he gave me the green light and asked me to do another sample. A task that took one day for others took me 3 to 4 days since I was all self-taught. But I started working with him. 
WHAT IS YOUR DEFINITION OF A CRAFTSPERSON? 
A craftsperson is someone who pursues and goes deeper and deeper into one thing - from dawn to dusk. You have to be able to do one thing very well. I think if you've done it for 7 years, you're already a craftsperson. But, someone who's done it for 15 years or more makes fewer mistakes. 
WHAT IS THE RELATIONSHIP BETWEEN CRAFTS AND THE ENVIRONMENT?
I make dyes with natural resources. Natural resources and dyes are a blessing from the earth. There's history and knowledge of using natural dyes and we should keep passing it on. That's my take on it, but I wouldn't necessarily say that chemical dyes are a bad thing. You can create colors that don't come from nature and they retain the color better over time. 

However, natural dyes have a certain sense of warmth and softness that can't be found in chemical dyes. That's what I'm pursuing. I like that it also circulates back to the earth - what I use for dyes, these plants can be used on fields to grow other plants. 
IS THERE A PHILOSOPHY BEHIND MONOZUKURI*?
There's no philosophy whatsoever! I do this for a living. There's no philosophy. 

*monozukuri is a combination of the word mono, the thing that is made, and zukuri, the act of making. Putting focus on the action and the object instead of the craftsman behind it, the person is de-emphasized, representing many nameless craftspeople who have dedicated their lives to craft.
PERHAPS THERE'S NO PHILOSOPHY BUT DO YOU HAVE A MEMORABLE STORY FROM MONOZUKURI?
Someone came into my store whose house was destroyed by the Tohoku Earthquake in 2011 and he escaped with an aizome indigo dye work in his arms. When he showed me, it was my work! When I asked where he bought it, he bought it at a gallery exhibition where I was selling my stuff. 
WHAT IS THE INSPIRATION BEHIND YOUR WORK?
It's easy for the people in my line of work to hit a wall - often losing inspiration. So I'll go to the 100 yen shops (the dollar store) to see if I could use something to dye with. If I travel, I'll go see landscapes. I went to see the plum trees in Tsukigase, Nara, and there were cut-down plum trees with withered or dead flowers so I filled up the car with it and went home to try to make dye from it. 
HOW DO YOU THINK CRAFTS WILL CHANGE IN THE FUTURE? WHAT DO YOU HOPE FOR THE INDUSTRY?
It's difficult to say, but I hope that the value and care that went into making antique things or crafts can continue to be received by the consumer. I'm not saying that more expensive things are better but I do think that if you grow up with handmade items and crafts, you acquire certain values, such as learning to take care of something, appreciating it, and understanding its quality. 

This will also allow for the succession of Japanese craftsmanship. It would be a shame that all these beautiful crafts like Nishijinori, pottery, and others disappeared. So, it's important to make an environment where craftspeople can succeed. There are so many different roles in this industry: people who produce and sell, people who make, and people who buy. Producers are very important even though some craftspeople might think to skip the people who come up with the concept and make it relevant for the customers - and that's who you (POJ Studio) are. There's a role for everyone. It's important for the customers to get to know the culture to know the craft.
DO YOU HAVE A MASTERPIECE?
I do, but it's expensive! I made a tapestry with an airplane like the ones the Wright Brothers made flying over the mountain.
---
TECHNIQUESHIBORI DYE
---
GENERATION1ST
---
LOCATIONKYOTO
---
PUBLISHED
---
AUTHORErisa Takeda
---
goes well with
Regular price
Sale price
¥24,000
Unit price
per